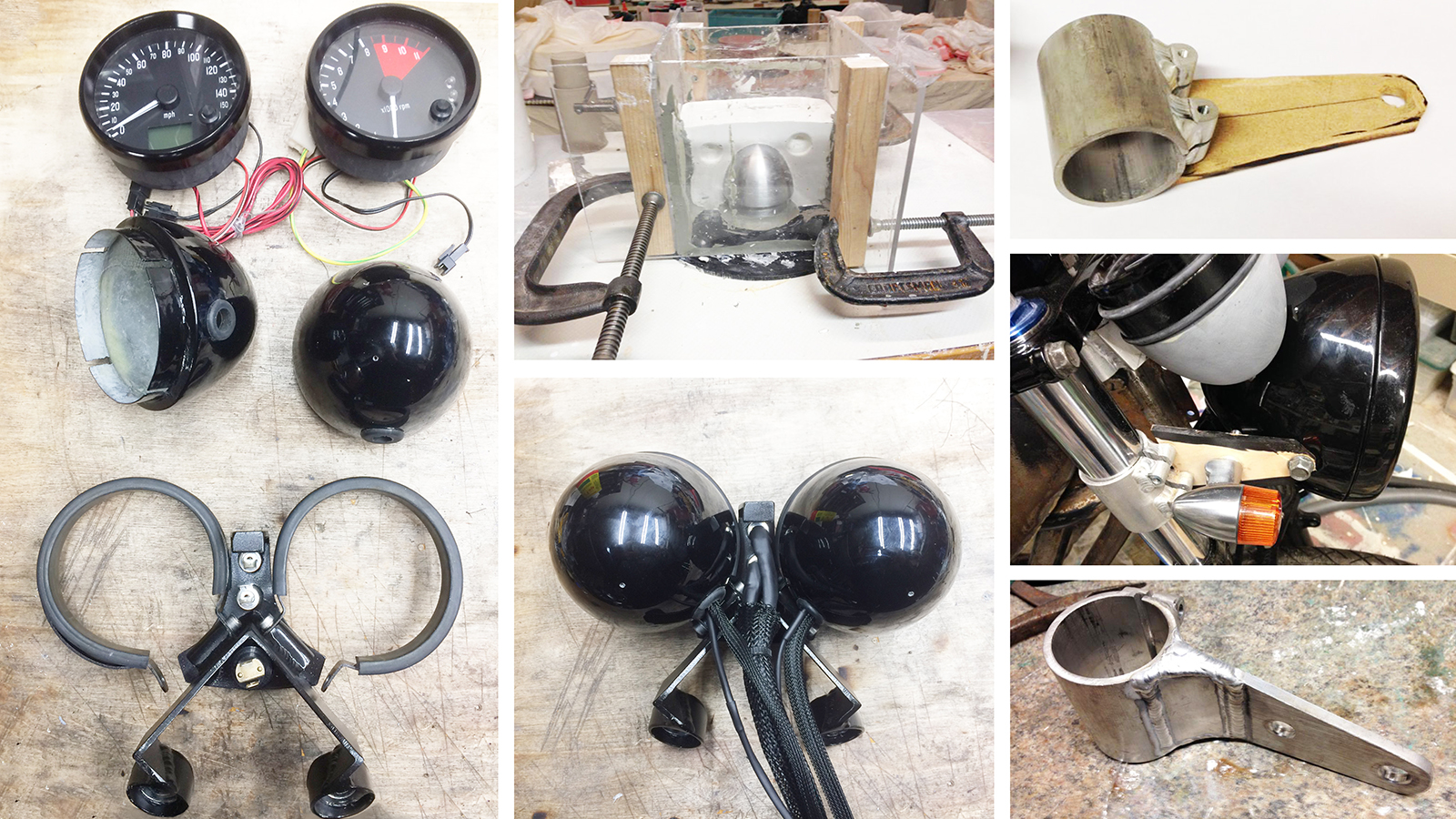 No stone unturned; a complete ground-up redesign.
This 1978 KZ1000 has played a pivotal role in my life. This is the story of a journey into modernizing a classic motorcycle while retaining it's character through performance upgrades and a complete restyling. Every part has been carefully considered for improvement, both functionally and cosmetically, to work in harmony producing a sleek and functional finished product.
Two-Wheel Fever; an obsession to improve and pay tribute.
This 1978 KZ1000 LTD holds a special place in my life. It is not my first bike nor my last. Here you can see it outfitted for a 17,000 mile solo road-trip that I took after graduating from college in 2010. This six month long adventure solidified my love of motorcycles, and this model in particular. The trip made me a better rider by testing my skill; it made me more resourceful as I was forced to make several "field" repairs along the way, and its rebirth has taught me countless lessons in design, engineering, and fabrication.
After returning home from the cross country trip the KZ was in sad shape, both mechanically and cosmetically. Thousands of miles on gravel roads and jeep trails had taken it's toll on a bike that was never intended for such use. Almost everything needed to be repaired or replaced, including an engine rebuild.
I saw this as a opportunity to not only improve and modernize, but also to perform many cosmetic changes to subtly improve the original look while still staying true to the character of the machine.
Complete package; all parts, individually and collectively, must look and function better than original.
The modifications are numerous. The main elements have been highlighted to display the level of consideration that is present.
The original heavy cast wheels were swapped with lightweight aluminum rims and built with stainless spokes. The factory steel fender was replaced with a lightweight fiberglass one. The 36mm forks were swapped for 43mm forks form a ZRX1200. An after-market headlight, instruments, mirrors, handlebars were all modified before being put to use.
In line with the performance nature of the project, the bike was converted to single rider use only. The gas tank was trimmed down, and the entire rear sub-frame was completely rebuilt. Thus raising the rear to make the body lines flow from tip to tail. Custom side-covers were designed, and the factory tail was slimmed and lengthened.
The factory brakes were replaced with custom ISR disks, Grimeca calipers and custom lightweight carriers. The heavy exhaust was replaced with a lightweight stainless steel header. The entire engine was overhauled and improved. Racing carburetors modified for street use were fitted. Foot-pegs were replaced and moved up and back for a sportier riding position.
The frame and swing-arm were heavily braced to stiffen the chassis. Custom Race Tech shocks were built for the new aggressive geometry.
The results are a motorcycle that has been modified to look and function better than the original.
The face; an in-depth look at a re-design.
Many details on this bike were carefully considered. From custom made bolts and nuts to a bespoke wiring harness, no detail has been overlooked.
For example, the headlight and instrument cluster is a large visual element of the motorcycle's profile. I believe this is akin to painting eyes on a ship; it seems to imbue almost humanistic qualities to this bike, and therefore its design is essential.
Exploring through drawing; preserving the iconic profile while modernizing and refining.
The factory instrument covers were an iconic part of Kawasaki's line-up in the 1970's and served as the basis of my restyling. The simple bullet shape is timeless and was used as a unifying design language from the instrument covers, and headlight, to the turn signals. Simple headlight brackets and rubber mounted instrument holders were designed and fabricated to support the assembly.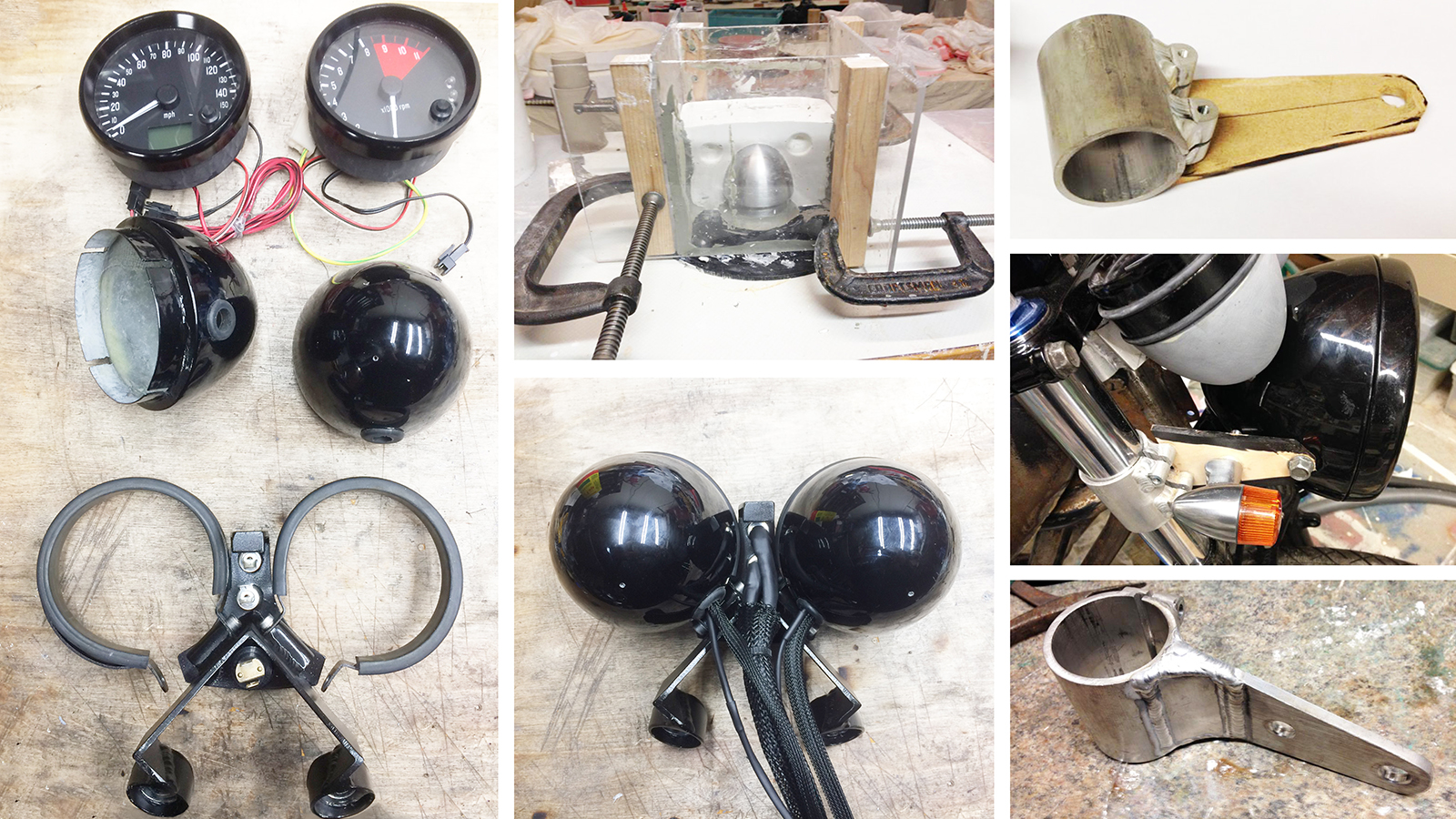 Learning through building; hands on experimentation.
Many different lighting solutions and instruments were considered before final selection and design occurred. Research into existing technologies was crucial in the design and fabrication of the bike. Many iterations were not realized. I designed and fabricated the instrument covers, instrument faces, headlight mounts, turn signal mounts, and instrument mounts.
Successful contemporary adaptation of a design icon.
Complete assembly with custom hardware and wiring. The slim CRG mirrors with bespoke stems and fasteners complete the look.
Stronger, Slimmer, Lighter, Faster.
The Kz1000 has an impressive racing pedigree, at one time claiming to be the fastest production vehicle in the world. The motor is based on the original Kawasaki z1 which many consider the first "superbike." With this in mind, weight reduction, both visual and physical, became a priority throughout the project. Everything was made smaller and slimmer to visually accentuate the massive liter engine and allow its performance upgrades to shine.
Details matter, even the ones that are unseen.
I am a firm believer that even seemingly innocuous details that aren't readily visible should still be carefully considered and designed. For example, the rear inner fender not only works to contain road grime, it is also used to mount the electronics. This works in harmony with the side-covers and seat to create a secure under-seat storage area.